New moons are perfect times to begin something new. This week the New Moon in Leo is on Wed. August 16, (2:38 am PDT, 5:38 am ET)
The Fire sign of Leo reminds us of kingly energy, light, and warmth of the Sun, and to show up and shine. This year because we are also entering the time moving towards Mercury retrograde, it would be better to put your energy into a project you've already started, Let the light shine on that and show up as your strong courageous, self-confident self.
For people with little fire energy in their birth charts, this Fiery new moon especially provides you with the juice to get into action. All of us can certainly benefit from the energetic Spirit of Leo. But be careful to not let your ego dominate. Come from Love, Spirit, and Trust as you make your project public.
Tune in the night before on Tuesday to do your Fire New Moon ritual or do it early Wednesday morning. That can be as simple as lighting a candle and saying a prayer of gratitude for all that you already have created and what's to come.
And take a look at the MicroCosmic Wisdom cards for the new moon. The image is of Magnesium phosphate, Cell salt #8.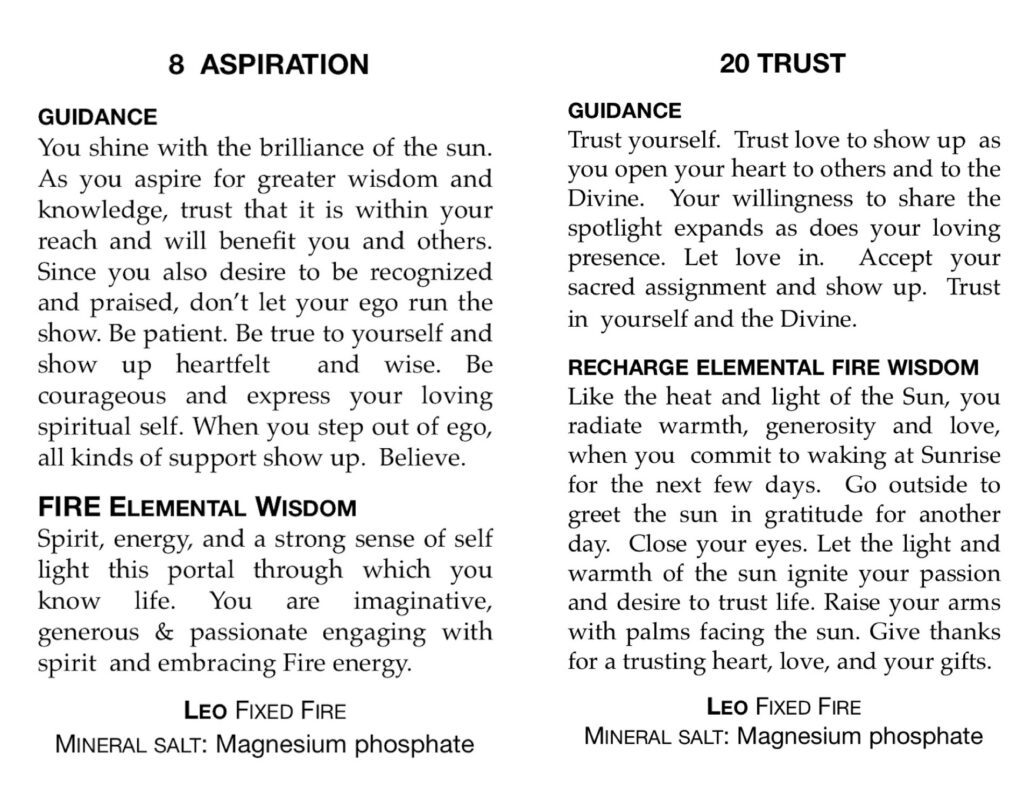 The Journal Prompts for these 2 cards are:
8. ASPIRATION
What do you aspire to, dream of? How committed are you to its worthiness?
20. TRUST
What do you need to trust? Where does lack of trust play a part in your life?
To get a deeper look at the gifts and challenges of your Elemental wisdom, schedule a personal reading with me, either a Cosmic Code or AstroElemental Code. There are a few appointments available in August. And this month I'm including a short complimentary follow-up session to help you with your desired change or action.