SECRETS OF YOUR CELLS:
Discovering Your Body's Inner Intelligence
NOTABLE BOOKS OF 2013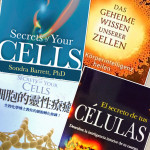 CELLULAR SPIRIT – Secrets of Your Cells  
One result of the Age of Enlightenment's attempt to divide each person into discrete elements is a profound sense of disconnection between our spirits and our bodies. This disconnect, a hallmark of societies in which technological advances have outstripped innate wisdom,  may help explain rising rates of emotional illness, anxiety,depression, as well as the rootlessness that afflict so many people.
But what if the body itself provided the blueprint for a renewed union of our physical and spiritual selves?
Biochemist Sondra Barrett started out believing that health was a simple matter of addressing chemical imbalances. Then she saw living cells under the microscope for the first time and was "enchanted by what I was seeing." Thus began a journey that has culminated in Secrets of Your Cells: Discovering Your Body's Inner Intelligence.
True to her training, Barrett presents clear, understandable discussions of such topics as how the body tells its own cells apart from those of foreign microbes (cellular identity) and how immune cells learn to detect and destroy such invaders. But she also addresses the connections between cell and spirit, and how the reader can use those connections to fashion a deeper, richer existence. For example, after noting that each cell has its own role to play within the body, Barrett asks the reader to consider questions such as "Where in my life am I the most creative?" and "What must I do before I die?"
Our bodies are, in the words of the Biblical psalm, "wonderfully and fearfully made."Secrets of Your Cells explores this wonder in all its aspects.—Lisa James in Energy TIMES
"In Secrets of Your Cells biochemist Sondra Barrett puts us in touch with the incredible beauty and organization of the cells of the human body as she translates the small-scale life of cells into large-scale lessons for living. This is the work of someone with a genuine reverence for the sacredness of life."—Larry Dossey, MD, author: Healing Words; Reinventing Medicine; The Power of Premonitions
"Sondra has the gift of a scientist's mind wedded to an artist's heart."—Eli Jaxon Bear, author:Fixation to Freedom: Enneagram of Liberation
The Marvelous, Mysterious Secrets of Our Cells
by Arthur Goldwag on RewireMe
Sondra Barrett is a biochemist whom you are as likely to find meditating or performing a qigong movement to drum music as peering into a microscope. For her, the visible and the invisible are not so much reflections of each other as places along a great continuum. Biological cells are more than the basic constituents of life, she says in her book, Secrets of Your Cells: Discovering Your Body's Inner Intelligence; they are "little crucibles of measurable, discernible biochemical interaction that also carry the seeds of divinity." They might not be self-conscious in the sense of "I think therefore I am," but they embody consciousness. They have memories—lymphocytes, for example, are immune cells that recognize specific viruses—and they carry the blueprints of our familial past in their DNA and, very possibly, the accumulated wisdom of the ages.
Just as we do, our trillions of cells breathe, eat, assimilate, eliminate, recycle, and regenerate. They thrive in community and in relationship to one another; they sense their environment and respond to it; they recognize enemies and attack them, and they recognize friends, whom they embrace.
It's rare that a medically trained scientist dares to venture into the mystical world of our cells and biology, but Dr. Barrett has both the courage and insights to do just that. By combining her scientifically trained mind with the wisdom of her heart, she takes us on an adventure of perceiving the inner workings of our bodies in a new way. This book will serve anyone curious about how our physical lives are related to this vast universe that we occupy. —Leigh Fortson, author Embrace, Release, Heal: An Empowering Guide to Cancer
"One scientist who is busy reinventing herself and her profession by regaining awe as a priority is Sondra Barrett.  Barrett has brought awe into her life by asking different questions about her specialty, biology, and by connecting biology to photography so that she and others can actually meditate on the awesome wonder of the cell itself.
Barrett talks about the cytoskeleton, the vibrating dynamic matrix of the cell, as the true mastermind of cell intelligence, which helps manage and coordinate cellular operations.  How significant is the work of the cytoskeleton?
Just consider what intelligence it takes to develop an entire cell.  And what about the construction and coordination of communities of cells?  If we were going to construct a vast community we'd hire a city planner and architect to draw up the plans.  We'd also need a master coordinator to decide what to build first."
~Matthew Fox The Awe Project: Reinventing Education, Reinventing the Human
Spirituality & Health Review May/June 2013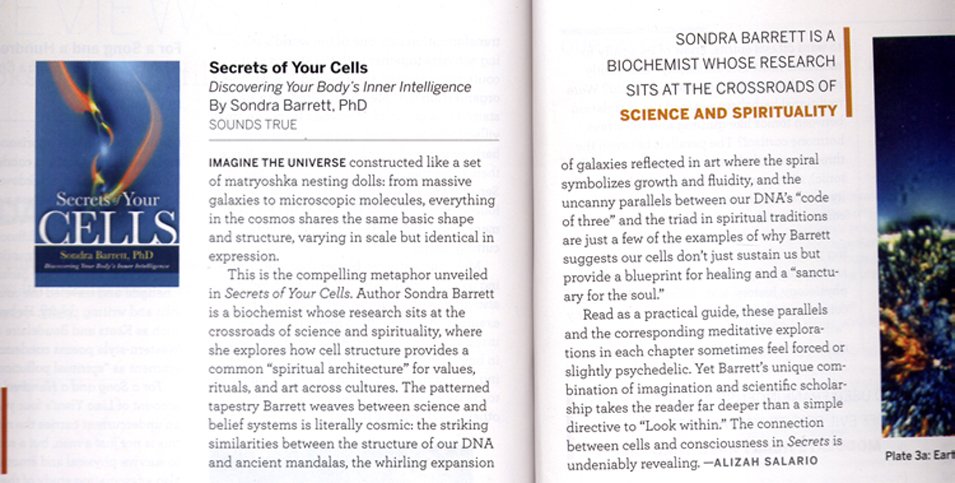 Prepare to be amazed… May 9, 2013  By James Hasse
"Sounds True has done it again. Where do they find their amazing authors? I have been so well educated and inspired over the years. Sondra Barrett, PhD has joined their ranks with her fascinating new book, "Secrets of Your Cells," a practical guide for applying the innate wisdom of our cells to our health and spiritual lives. "Our cells are more than just fortuitous arrangements of chemicals," explains Dr. Barrett. "They are a community of trillions of sentient entities cooperating to create a sanctuary for the human soul." Dr. Barrett takes us on an exciting adventure of seeing the inner workings of our bodies in a new way and she demonstrates how our physical lives relate to this vast universe in which we live.
There are so many "take aways" from the book, but one of the unexpected ones is to be able to see cells and molecules as sacred art, as revealed by the fascinating color photographs of the inner and outer world. Dr. Barrett, I am a fan!    5.0 out of 5 stars"
A MUST READ FOR HEALERS  by Marcia Starck
"SECRETS OF THE CELLS BY SONDRA BARRETT is an amazing book. For those of us who are non-scientists but have been involved in healing modalities, this book clarifies the basic biology of cells and shows us how to work with them through many thoughtful exercises in each chapter. For those us involved in spiritual disciplines, the understanding of our cells, as well as the exercises, can furthur our own spiritual connection to our physical temples. For those of us who love and promote the arts, the color plates are amazing and a great tool for meditation as well. I highly recommend this book."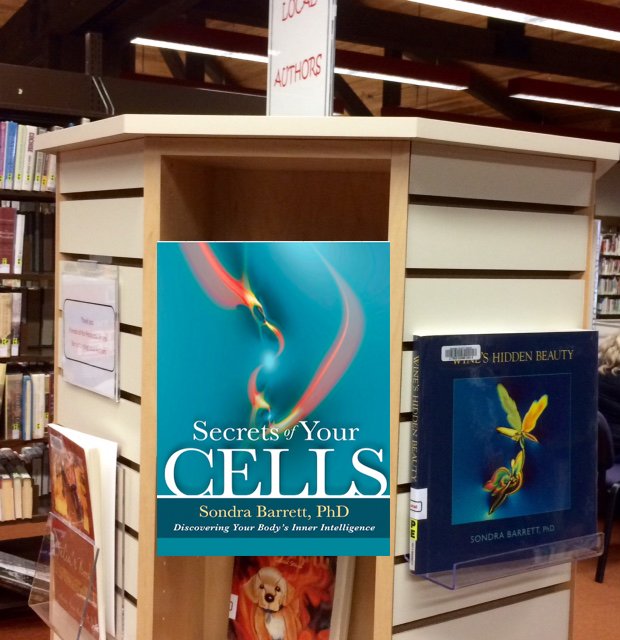 As a winemaker for more than 50 years, I've always felt that making wine is much like raising children: You have to love and guide them and transmit to them the richness of your spirit. Now "Wine's Hidden Beauty" presents dramatic proof of what I've long believed, but could only feel: wine has a secret life and inner beauty that transcends its chemical components. Dr. Barrett's portraits of wine are a wonderful addition to our understanding of the art, science and spirit of wine making.
~Miljenko "Mike" Grgich, Winemaker/Founder Grgich Hills Estate
Unique books on the subject of wine are a rare find these days. This is certainly one of them. For those who enjoy drinking wine, and relish the art and science behind its magic, Sondra Barrett has taken us to another level.
Whether for its insight into the history and culture of the grape, and its evolution into the lifestyle of the world's great cultures, or for its penetrating view into the visually stunning molecular world within, "Wine's Hidden Beauty" is a journey into wine that you will thoroughly enjoy. Twenty years in the making, the book's vintage is about right.
–Ron Scharman, Wine Traveler, eWinery Solutions
The Most "Unusual" Wine Book Ever Produced, Astonishing. Gerard Launay-Highly recommended.
As a student of geology, it was routine for me to study rocks through a "polarizing microscope";the thin slides of minerals created a kaleidoscope of brilliantly colorful images. I never thought of viewing tiny drops of wine through the microscope….but obviously Sondra Barrett did. What a revelation. But this book is more than just a collection of photos that puts a new spin on wine. It is also a love letter to wine itself – and to its life giving properties.  My favorite quote in the book is a discussion of Pasteur – "He showed that fermentation was due to life, thereby confirming an instinctive and almost universal belief that wine was not a mere chemical concoction, but a mysterious living organism, divinely appointed as the symbol of life." Many of my friends are drinkers of lovely wine….this book could be a sensational gift to these friends and others who think they know everything about it.
An educational, fun, incredibly beautiful piece of work; Barrett openly shares the art, soul, and life pleasures of wine.
– Jim Fetzer, Owner/President of Ceago Vinegarden, former Pres. Fetzer Vyds
Wine's Hidden Beauty:  Becca Yeamans,The Academic Wino
Now, I know you're not supposed to judge a book by its cover, but without even opening up to the first page, I knew it was going to be awesome!  I'm sure you are all aware: I'm somewhat of a nerd, so seeing a magnified image of the molecules of wine, in full color and all its "butterfly glory" made my heart skip with excitement.  The book is loaded with big, beautiful photographs of all types of wine (old, young, red, wine, etc) that leave you stopping to try and "taste" the wine pictures with your minds' palate.
In a way, this book was almost just as much a journey through the personal evolution of Sondra Barrett as is was about the science and romance of wine.  Throughout the book, I frequently found myself reflecting on my own thoughts and experiences, and how wine has transformed the relationships in my life (to humans, animals, and nature itself).  The book almost had me in a state of bliss while reading it, which I think is partially owed to the mystical experiences one receives through wine.  I also found myself wanting to drink wine as I turned through the pages!
This book is great for both the wine expert and the wine novice, and provides a great many photographs of incredibly beautiful images of the molecular structures of wine.  It's a book that won't take you long to read and looks wonderful on the coffee table as a piece of entertainment for your guests.
I highly recommend this book,Wine's Hidden Beauty and encourage every wine lover to pick it up and give it a read.  I'll leave you with one of my many favorite quotes from the book:
"The grape fulfills her promise to help us humans' open to happiness and a deeper connection with all living things.  Her spirited life engages ours.  The spirit of the grape shows life in microcosm and macrocosm.  When we peek into the inner life of this spirited potion we see the story of life.
Remember she is here to make us happy ."
A big "thank you" goes out to Sondra Barrett for sending me a copy of this book to read and to cherish.
Tastes of Things Before My Eyes: The Beauty of Wine, Under A Microscope   Joe Roberts 1WineDude
Just when you thought that wine has been analyzed form pretty much every angle possible, along comes Philadelphia native, biochemist PhD and former medical research scientist Sondra Barrett.
Sondra's journey to wine seems spiraling and circuitous: Originally a researcher on human leukemias, she was asked to photograph a patient's leukemia cells, which lead to her presenting slide shows of normal and abnormal cell comparisons at oncology clinics.  After attending a photographic exhibit of chemicals of the brain, Sondra noticing an artistic quality in the brain chemical photos decided to try similar photographic techniques on molecular structures in nature.
Structures like wine. And the images in this book (Sondra sent me a review copy) are, simply put, extraordinary.
According to Sondra: "My first discovery was at Sterling Vineyards when I was artist-in-residence documenting winemaking from the inside out. The winemakers gave me barrel samples and wines from all over Napa Valley. This extraordinary experience led me to uncovering distinct patterns and beauty in a glass of wine. Early on, a Napa grape grower, Rachel Balyeat, provided some financial support for me to delve further into the life of wine. She hosted a special dinner with acclaimed wine maestro André Tchelistcheff to discuss what these pictures could mean. André's first reaction – 'They are the jewels in wine. Put them on silk scarves.'"
I think Andre was on to something (though I don't wear silk scarves so I'll stick to admiring the photos in printed form)…
One of the most interesting aspects about Wine's Hidden Beauty is the repetition of patterns that Sondra has unearthed in those hidden molecules, where excellent older vintages of Cabernet Sauvignon take on similar complex forms, sharp edges define crisp, refreshing white wines, and even malolactic fermentation shows a telling pattern.
In other words, Sondra's book might just be revealing the "shapes" of taste.
it's the kind of book that you don't even need to read to have it change your perspective, and a rare case in which the cover (Which features a photo of Muscato Azul) does indeed accurately judge the contents.
If you find yourself saying "WOW" at the cover, then this book is well worth your time.
What An Extraordinary Read With Unrivaled Visuals    Jo Diaz
Wine's Hidden Beauty by Sondra Barrett, PhD, is a walk in the wilds of a microscope.
Sondra delivers the heart and soul of wine like we've never experienced it before… Or have we? Have we journeyed to the life that exists within a bottle of wine intuitively before, but just not recognized it in our conscious minds?
Amid the splendor of the visuals of this book, you're also going to do a bit of soul searching… At least, I did.
Andre Tchelistcheff said to Sondra about her images, "They are the jewels in wine. Put them on silk scarves." (I agree.)Sondra thinks of wine as a nurturing community as she travels through molecular structures and the inner magnificence of wine. For instance, she's discovered that wine's molecular shapes grow larger as they age, and lose vitality and form as they decline in age. Her microcosmic images are a replication of our own life forms; and yet, her world is not one that we would readily recognize, not without her expertise.
Her thoughts are well written in her book… As she searched for Wine's Hidden Beauty, the soul of wine was reflected back to her. With those revelations, she was able to capture the essence of wine's being, and parallel that to humankind's own life cycle.
Her words are exploring  ~ "How like the grape are we?"
Her concepts will challenge your way of thinking about wine ~ "Tasting Shapes"
Her revelations explore the essence of life.