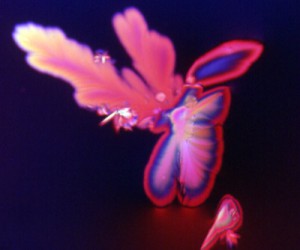 Last week, Jo Diaz, Executive Director of Petite Sirah Advocacy Group, gave a few us a wonderful opportunity to taste 16 petite sirahs.  We were a small group of 5 women enjoying this vast array of wines.  What was so surprising to me, two of us rated and experienced the wines in a similar way.  We didn't like what the other three did.  What was the difference?
One difference between our two 'groups' – the three women who enjoyed the big tannic wines were all experienced expert wine judges; the two of us, both wine and food writers, simply had different palates.  And if you know TIM HANNI's work on tolerant and supertasters, I'd say the two of us were super tasters.
Of course, I photographed all the wines and rather than giving you numbers, I will offer here a few portraits of petite sirahs from the inside out.  Wine shapes.
What you see here is some of the microscopic language of wine.  Some wines, in this group, had mostly sharp forms I call 'swords.'  Some had soft forms while others had a mixture or even greater complexity.
These wines are a young 2009 Crusher (Clarksburg), slightly older 2008 Rock Wall (Mendocino) and 2007 Parducci True Grit (Mendocino). Another 2007 from EOS below.
Click here to check out JO DIAZ's new blog about these wines, check it out.
Here is one more, 2007 EOS, Paso Robles.  And here is another write-up of our PETITE SIRAH tasting.  Sue Straight's notes make me want to dive into another bottle soon.