The WINEMAKER'S ART
It is said that the great maestro of wine André Tchelistcheff could recall any wine he tasted, that he remembered the expressions of wine as personalities and shapes.
In Michael Chiarello's Napa Stories, Andre is said to have changed how he tasted wine after he stopped smoking. For decades his experiences came in the shape of a pyramid. When he stopped smoking, his tasting expanded to the shape of a fan.
Decades ago Grape Grower Rachel Balyeat hosted a special dinner to show my wine photographs to André and to ask him – what are they? André said, "the photos showed the jewels in wine. They should be made into jewelry and put on silk scarves. Interested?
These photographs of wine through a polarizing microscope, reveal unexpected patterns, shapes and incredible beauty. Some 'jewels' are said to portend long life, style, and character. Others may reflect the signature of the winemaker or the spirit of the wine.
Wine's inside stories have appeared in numerous publications and venues including The World of Fine Wine Magazine, Scientific American, American Wine Expo, Sterling Vineyard, Alpha Omega Winery, Vineyard Vista, Earthrise Retreat Center, Lawrence Hall of Science, Copia, Grgich Hills, Hope & Grace Tasting Salon and Jessup Cellars in Yountville, CA.
TRANSFORMATION: Juice becomes wine
In wine's creation story, it is ev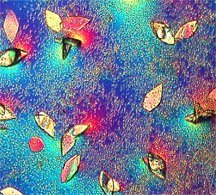 ident that yeast adds something essential to the mix of sweet juice, acids, tannins, and pigments. This image illustrates early fermentation of chardonnay. The tiny circles are Montrachet yeast. Yeasts transform sugar into bubbly carbon dioxide and alcohol; the alcohol brings more light to the microscopic display as it changes the refractive index of the fermenting juice. I interpret the light as reflecting spirit and vitality, though technically it's a lot more.
Through grape's partnership with yeast, the alchemical transformation of fermentation begins. Yeast loves sugar in the sweet grape juice, chews it up and converts it into bubbly carbon dioxide and spirited alcohol.
When grapes ripen from tight young green berries to plump juicy fruit at harvest time, sugar content increases. Typically grapes are harvested when the sugar reaches about 22-24%; percent sugar is also called Brix. The general rule, for every 2 Brix (2% sugar), 1% alcohol is produced. A wine label that says the alcohol is 12.0% also tells us at harvest the grapes were around 24 Brix. If the ferment reaches 15% alcohol yeasts' work often ceases.
The Message in the Bottle? Restrained or Opening Up
One of the reasons I became so fascinated by inner world of wine, it showed the story of life, transformation and our senses. Juice, through the microscope is tiny. From fermentation on the forms transform, become more complex, change, and grow larger. I've even seen clues that a wine is losing its vitality and clues that a wine will age well and live long. What secrets a drop of wine can reveal when you know how to see.
VIDEO – INSIDE WINE, BEAUTY AND STRUCTURE
These images of Cabernet Sauvignon illuminate how a wine opens up as it ages. Both are 2002 Rudd Oakville Estate Cabernet Sauvignon. The photograph on the left was taken when the wine was 6 months younger than same vintage on the right.It was silky and smooth, yet was more closed, concentrated and tight while the wine aged for another 6 months has softened, opened up and shows more complexity . Interestingly, the slightly older wine now reveals signs of great potential to age well. Both times when these wines were tasted they were wonderful and elegant.
Here are two more cabs, actually "Bordeaux" blends, the 2006 Alpha Omega Proprietor's Red, a year apart. On the left is the younger wine which tasted more tannic, and looked it. On the right you can see a softened wine a year later. We can capture visual cues to how a wine is aging and developing and they make a great tale to tell – once upon a wine….
OPENING UP
THE BOOK: WINE'S HIDDEN BEAUTY – We thought we were sold out but discovered some a few more copies. So you can still purchase a copy. Though we are planning a second edition, that won't be available for awhile.
Specifics: French flaps soft cover, full color gift book 133 pages, 100 color photographs, 10 x 10
---
---