This is a portrait of 2001 Viader cabernet sauvignon (Bordeaux blend) at 3 years old.
I started my professional life as a serious medical scientist on the faculty of the University of California Medical School. My specialties were biochemistry, hematology (blood) and oncology (cancer).  This meant that I LOOKED at cells with a microscope for their maturity and abilities.
But then my tool of science – this microscope – opened me to the ART IN SCIENCE and the ART in WINE.
The discovery happened 'accidentally.' Looking at an exhibit of photographs of brain chemicals  (at the Academy of Sciences in Golden Gate Park), I was struck that molecules could actually look like abstract and contemporary art. These forms and designs had no relationship to the science of functional molecules, or so I thought.
The chemicals of taste tell their story.
A wine tells it story of life & death.
Wine pictures may also reveal vitality, the winemaker's signature and the spirit of the vine.  A visual delight, no matter how we name these portraits of the molecular congregation in wine.
Sometim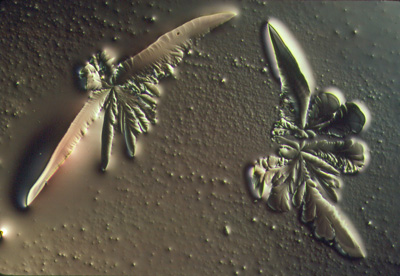 es I call the images 'Wine Rorschach' –what do you see in the expression of this wine?  EXPLORE WINE for fun while getting deeper into wine's spirit.
It has been a pleasure for me, perhaps a very crazy pleasure, to have spent decades mining the beauty and art in wine.  Yet the pictures proved to me why wine is such a legendary beverage.
Drink up, drink in, share and be willing to stretch the limits of your knowing.
Wine portraits on this page from top to bottom:
Viader Cabernet (Bordeaux blend) 2001- 3 yrs
Sequoia Grove Cabernet (in the barrel) 1983 – 1 yr
Belvedere Bacicalupi Vineyards Pinot Noir – 13 years old