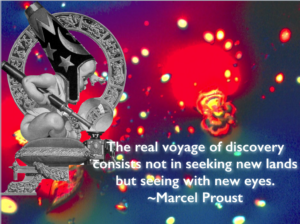 For CELLS & the SACRED and other programs
Just completed Sondra Barrett's Sacred Cells class… totally fascinating!! To imagine and to know what's going on inside of our bodies…all of the amazing connections… now I'm watching to see how this new knowledge will affect my painting… very exciting. Towards the end Sandy asked us to complete the statement: "I am…" I thought of using my grandmother's stamps and adding the answers in red… could make a great exercise for a class…Thx Sandy! Paula D, Berkeley Calif.
And all I can say is a jam-packed "Thank you!". First of all, the slides were just intriguing, and so much new information. The information that you have been teaching is beginning to come alive for me. Most importantly, I was just filled with gratitude for all my un-conventional opportunities during the pandemic. The slowdown in life was life-changing for me. Jane H, Tennessee
I am so enjoying this class! So much new information to process…different ways to look at my connection to the Sacred! Ruth K, Wisconsin
I loved learning about the Sacred within the cells. Even though you said that your expertise is the Science I felt the Sacredness which is incredibly important to me. Thank you for being real. Rose, Australia
First of all – let me congratulate you on your unique book. I got it as a Christmas present from my daughter and from the first page I felt it was going to rearrange the world for me. I have it on my bedside table and have read parts of it several times. It is that kind of book. My reasons for using your wisdom in my work are many as you will see.

Before I even had heard of your book I had composed a character (I am among other things a writer of criminal stories) for one of my books. Her name is Elena, she is 75 years old, she lives in Novosibirsk and she is a biochemist and shaman! In my book she has come to Iceland to meet her Icelandic lover. I am now writing a second book where Lena comes back and I use her skills again.

I certainly do recommend your book and your program to everyone. I am actually speaking about it all the time. In my circle of friends you have become quite known. I wish you all the best and I will certainly continue to dive into your Secret Cells.Thank you!~ Hallveig Thorlacius, Iceland
Thank you so much for sharing your knowledge, expertise, and passion! I was drawn to this offering as it illuminated the science behind spiritual connections and principles. In fact, it went much deeper into the connections and synchronicities than I was even hoping for.
In the groups where I teach and lead others in mystical journeys I feel it is important to ground the mysticism and energy transmitted with leading edge science. What a delight to experience and more deeply understand the workings of our cells, and bodies and see how everything is related and mirrored in sacred geometry. Your visuals are superb, and your microscopic photography is beautiful and breathtaking. This class is a wonderful balance of art, spirituality and science.
Many blessings,
Sandra Cla

r

ke CHT
Dr. Barrett is a remarkably insightful and informative instructor. Her lectures are characterized by wisdom, wit and warmth. Her lecture style bridges the gap between molecules and mind, and experiential ways of activating the healer within. Dr. Barrett shares a sense of awe and mystery underlying the remarkable complexity of the biological universe, and expresses fundamental and practical discoveries with eloquent simplicity ~Will Gordon, PhD, President, Cortext Continuing Education Seminars for Health Professionals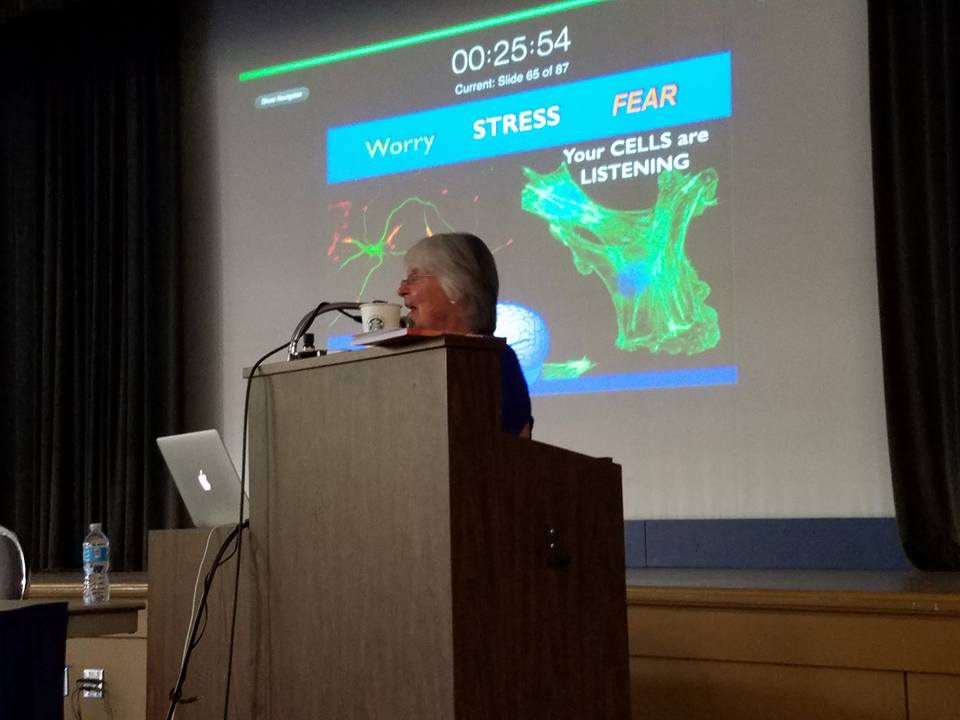 Sondra Barrett was invited to lead a day-long workshop on the Sacred Secrets of Our Own Biology for an international meeting of music-thanatologists. These are clinicians who use music to meet the physical, emotional and spiritual needs of dying individuals through the prescriptive use of musical elements. Sondra helped all appreciate the biological, artistic, and mystical aspects of the building blocks of our own being (the cells and molecules) and the beings with whom we work. Her workshops were experiential and inspirational and they helped the participants in their work as well as in their own self-care. Most of all, Sondra's warm presence embraced the participants, making her words come alive in a caring and truthful message. ~Donna Madej, Certified Music Thanatologist, Spokane, WA
It was such an excellent program that you did for our Marin Community Group of IONS. You gave a very high caliber presentation, from the Power Point, to how well it was organized, to your willingness to answer questions and explain. You obviously have done so much work in your field of science – and yet have been one of the ones we need… you've applied it to the heart aspects of living! Thank you!~Rev. Pat Palmer, Unity In Marin
---
---