READERS' COMMENTS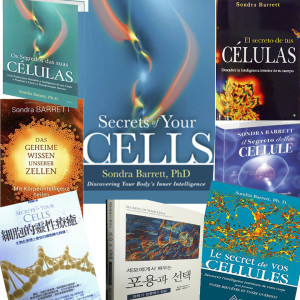 SECRETS OF YOUR CELLS BOOK
Dear Dr. Sondra:
A while ago I bought the book: The secret of your cells, in Spanish. All the content is exciting, and it has made me see better the meaning of life and fear death a little less.
I have practiced the exercises proposed in the spirit of improving my health.
Thank you very much in advance and have an excellent day.
Atte, Ricardo Gonzalez
"Your book found its way to me here in Perth, Western Australia! Your book brought so many things together that I have read over the years. Did you know that there is a Buckminster Fuller geodesic dome in a very small country town called Beverley here in WA. It houses the office of a petrol station & is rather derelict now. Loved your book – so much fascinating stuff! And such rich insights & ideas. Thank you so much. Have used Pennebaker's confession idea & found it extraordinary (as have many of my friends)." Love & thanks, Caroline Harry, Perth, Western Australia
"Thank you so much for sharing your knowledge, expertise, and passion! I was drawn to this offering as it illuminated the science behind spiritual connections and principles. In fact, it went much deeper into the connections and synchronicities than I was even hoping for.
In the groups where I teach and lead others in mystical journeys I feel it is important to ground the mysticism and energy transmitted with leading edge science. What a delight to experience and more deeply understand the workings of our cells, and bodies and see how everything is related and mirrored in sacred geometry. Your visuals are superb, and your microscopic photography is beautiful and breathtaking. This class is a wonderful balance of art, spirituality and science. "
Many blessings,
Sandra Cla

r

ke CHT, Santa Rosa, CA
"Hi Sondra, My wonderful husband ordered your book (Secrets of Your Cells) for me for Christmas. He is now devouring it just as I did, and cannot resist reading me bits as he goes through it. As I did to him. I am a naturopath (herbalist and nutritionist), in Australia. I found your book illuminating to say the least. I was researching neuroplasticity of the brain a couple of years ago (delivering a workshop to naturopaths) and am thrilled to learn more about how our thoughts can (and will!) shape our wellbeing. After 20 years of clinical practice, while I love to make up herbal formulas and occasionally recommend supplements (usually minerals in simple form) to kick-start things along, I am finding more and more these days my recommendations veer towards encouraging clients to find a way to achieve calm in their lives, because it seems we are facing an anxiety epidemic and this seems to be the backdrop to so much illness.
So, thank you for opening my mind to even further possibilities. Your book is beautifully written, eminently readable and I appreciate the self-help tools (practices) throughout. I will be ordering more copies because I know many others who will enjoy it as much as we have." Kind regards, Lizzie – Elizabeth d'Avigdor
Hi Sondra, I come to say that you are the one who inspired me de most this year . ( The wisdom of the body summit in august 2019). I bought your book and I'm enjoying it a lot ! Thank you for your work and for who you are. Sylvie Beliveau
BOOK REVIEWS
NOTABLE BOOKS OF 2013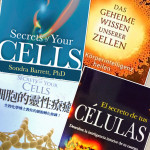 CELLULAR SPIRIT – Secrets of Your Cells By Sondra Barrett, PhD
One result of the Age of Enlightenment's attempt to divide each person into discrete elements is a profound sense of disconnection between our spirits and our bodies. This disconnect, a hallmark of societies in which technological advances have outstripped innate wisdom, may help explain rising rates of emotional illness, anxiety,depression, as well as the rootlessness that afflict so many people.
But what if the body itself provided the blueprint for a renewed union of our physical and spiritual selves?
Biochemist Sondra Barrett started out believing that health was a simple matter of addressing chemical imbalances. Then she saw living cells under the microscope for the first time and was "enchanted by what I was seeing." Thus began a journey that has culminated in Secrets of Your Cells: Discovering Your Body's Inner Intelligence.
True to her training, Barrett presents clear, understandable discussions of such topics as how the body tells its own cells apart from those of foreign microbes (cellular identity) and how immune cells learn to detect and destroy such invaders. But she also addresses the connections between cell and spirit, and how the reader can use those connections to fashion a deeper, richer existence. For example, after noting that each cell has its own role to play within the body, Barrett asks the reader to consider questions such as "Where in my life am I the most creative?" and "What must I do before I die?"
Our bodies are, in the words of the Biblical psalm, "wonderfully and fearfully made."Secrets of Your Cells explores this wonder in all its aspects.—Lisa James in ENERGY TIMES
"In Secrets of Your Cells biochemist Sondra Barrett puts us in touch with the incredible beauty and organization of the cells of the human body as she translates the small-scale life of cells into large-scale lessons for living. This is the work of someone with a genuine reverence for the sacredness of life."—Larry Dossey, MD, author: Healing Words; Reinventing Medicine; The Power of Premonitions
"Sondra has the gift of a scientist's mind wedded to an artist's heart."—Eli Jaxon Bear, author:Fixation to Freedom: Enneagram of Liberation
The Marvelous, Mysterious Secrets of Our Cells by Arthur Goldwag on RewireMe
Sondra Barrett is a biochemist whom you are as likely to find meditating or performing a qigong movement to drum music as peering into a microscope. For her, the visible and the invisible are not so much reflections of each other as places along a great continuum. Biological cells are more than the basic constituents of life, she says in her book, Secrets of Your Cells: Discovering Your Body's Inner Intelligence; they are "little crucibles of measurable, discernible biochemical interaction that also carry the seeds of divinity." They might not be self-conscious in the sense of "I think therefore I am," but they embody consciousness. They have memories—lymphocytes, for example, are immune cells that recognize specific viruses—and they carry the blueprints of our familial past in their DNA and, very possibly, the accumulated wisdom of the ages.
Just as we do, our trillions of cells breathe, eat, assimilate, eliminate, recycle, and regenerate. They thrive in community and in relationship to one another; they sense their environment and respond to it; they recognize enemies and attack them, and they recognize friends, whom they embrace.
It's rare that a medically trained scientist dares to venture into the mystical world of our cells and biology, but Dr. Barrett has both the courage and insights to do just that. By combining her scientifically trained mind with the wisdom of her heart, she takes us on an adventure of perceiving the inner workings of our bodies in a new way. This book will serve anyone curious about how our physical lives are related to this vast universe that we occupy. —Leigh Fortson, author Embrace, Release, Heal: An Empowering Guide to Cancer
"One scientist who is busy reinventing herself and her profession by regaining awe as a priority is Sondra Barrett. Barrett has brought awe into her life by asking different questions about her specialty, biology, and by connecting biology to photography so that she and others can actually meditate on the awesome wonder of the cell itself.
Barrett talks about the cytoskeleton, the vibrating dynamic matrix of the cell, as the true mastermind of cell intelligence, which helps manage and coordinate cellular operations. How significant is the work of the cytoskeleton?
Just consider what intelligence it takes to develop an entire cell. And what about the construction and coordination of communities of cells? If we were going to construct a vast community we'd hire a city planner and architect to draw up the plans. We'd also need a master coordinator to decide what to build first."
~Matthew FoxThe Awe Project:Reinventing Education, Reinventing the Human
In Spirituality & Health Review May/June 2013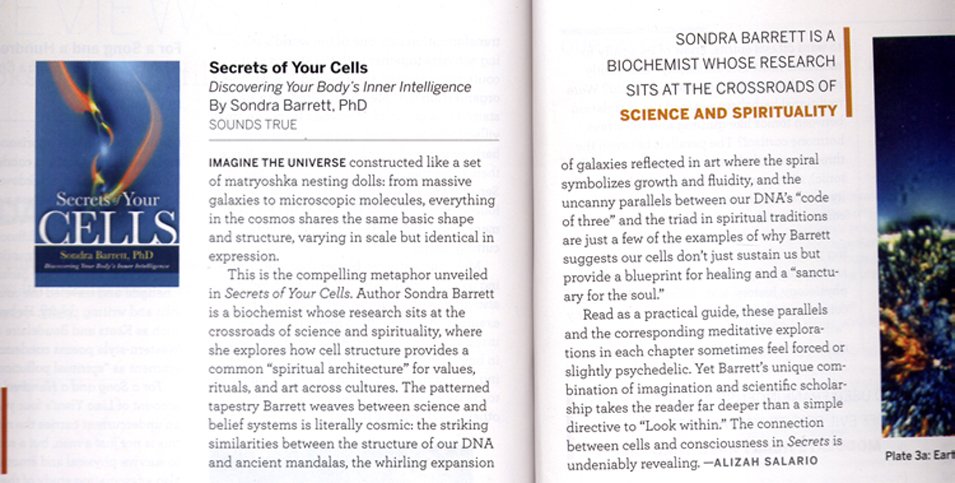 Prepare to be amazed… May 9, 2013 By James Hasse
"Sounds True has done it again. Where do they find their amazing authors? I have been so well educated and inspired over the years. Sondra Barrett, PhD has joined their ranks with her fascinating new book, "Secrets of Your Cells," a practical guide for applying the innate wisdom of our cells to our health and spiritual lives. "Our cells are more than just fortuitous arrangements of chemicals," explains Dr. Barrett. "They are a community of trillions of sentient entities cooperating to create a sanctuary for the human soul." Dr. Barrett takes us on an exciting adventure of seeing the inner workings of our bodies in a new way and she demonstrates how our physical lives relate to this vast universe in which we live.
There are so many "take aways" from the book, but one of the unexpected ones is to be able to see cells and molecules as sacred art, as revealed by the fascinating color photographs of the inner and outer world. Dr. Barrett, I am a fan! 5.0 out of 5 stars"
A MUST READ FOR HEALERS May 28, 2013 By Marcia Starck
"SECRETS OF THE CELLS BY SONDRA BARRETT is an amazing book. For those of us who are non-scientists but have been involved in healing modalities, this book clarifies the basic biology of cells and shows us how to work with them through many thoughtful exercises in each chapter. For those us involved in spiritual disciplines, the understanding of our cells, as well as the exercises, can furthur our own spiritual connection to our physical temples. For those of us who love and promote the arts, the color plates are amazing and a great tool for meditation as well. I highly recommend this book."
---
---