HAPPY BIRTHDAY 9 YRS OLD MAY 2022
I always thought that MAY 1 was a significant day for my first Cell book to be published. After all, May 1 was my Dad's birthday. He would have been very proud of me becoming a writer. That was his dream, that he never got to accomplish in this lifetime. Today he would have been 106 years old and has been gone for almost 40 years, much of my life.
I have always said that I inherited my Dad's writer genes, and so have my kids. That my publisher Sounds True scheduled the release of this book on my Dad's birthday, I thought was perfect (they, of course, didn't know the meaning of that date to me). And in appreciation of all that my Dad gave me, I am giving you some tips for reaching Gratitude.
Happy birthday to all of our cells too. Many will have been born today. Many will leave today but we will never know that's happening. Such kindness that our cells do not share their death and birth chaos with us.
I began offering book clubs for this book in 2019 though I've taught this material in many courses, workshops and retreats in the US, UK and China. The first Secrets of Your Cells(SOYC) Book Club was August 20, 2019. We completed the 4th round of SOYC book club that began Sept. 2020. The next online program YOUR ELEMENTAL SOUL started on September 8, 2021. You can still join, a seasoning of cell wisdom sprinkled in.
How Cells Know
Through a powerful synthesis of biomedical science and ancient wisdom traditions, biochemist and "cellular shaman" Dr. Sondra Barrett offers practical strategies our cells have for healing and thriving. This book Secrets of Your Cells, a crossroads between science and the sacred, reveals Life's operating instructions – as above, so below.
One of the core themes in the book is the fact that tensions and stresses on our cells' inner fabric influence their actions and health. What we can conclude from this science about the interior framework of our cells, it is most likely the place where yoga, walking, stretching, dancing, singing, chanting, qigong, can have their beneficial effects.
The Architecture of Life – Divine Designs video clip
PURCHASE at any of these links or ask at your local bookstore.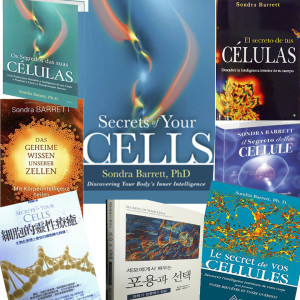 Also available in SPANISH,Complex Chinese, Korean, German,Italian, French and Portuguese.
Do you know any SECRETS in your Cells?
Our cells are endowed with:
Wisdom for incorporating balance, fluidity, community, and cooperation into our everyday lives,
Integrity – our cells teach us about Truth and remembering Gratitude
Time-honored energy practices to manage stress
Intelligence to regulate the expression of our genes
Abilities to listen to our thoughts and initiate healing
Shapeshifting behaviors to assist you in Letting Go and aligning align body, mind and spirit
Cell Secrets
Cells communicate—they pass messages on to one another, and they respond to the messages that we send them. My unexpected jog on my scientist path pushed me to uncover and make visible secret messages hidden in the very architectures of life that build us, as well as our holy traditions. I see sacred geometry in our molecules and I see a story of creation as told by our molecules.
By teaching the new field of body-mind medicine, or psychoneuroimmunology (PNI), I became convinced of how our healing systems are all connected. The brain may be the organ that organizes our thoughts yet consciousness is distributed throughout our bodies. Trigger one neuron and holographic waves stimulate billions of cells. The process works in reverse, too—when we learn to attune ourselves to our cells, they can teach us a better way to live. Though science has not yet proven the effectiveness of visualization and prayer or other mind/body healing practices, it might just be that science has yet to recognize the specific mechanisms and mediums through which consciousness and cells resonate—and how we can use them to rewire ourselves for serenity and health and thankfulness instead of illness and stress and despair.
Here anthropology, spirituality, and biology converge. Consider the double helix, an image that recurs constantly in artwork and mythology. It can be found on prehistoric cave walls, and on the Caduceus, the serpent-entwined staff of Hermes that is the symbol for medicine, The spiral is a form that occurs on both vast scales (galaxies) and small (conch shells), DNA —and it is an ancient symbol of the womb. When the atomic structure of DNA is portrayed graphically, it looks uncannily like a mandala—the colorful Hindu Sri Yantra that represents creation of the universe.
The psychologist, the religious believer, the scientist, mystic or the shaman each offer a different explanation of how imagery works to benefit health. The psychologist may say we are changing our conscious thoughts to align with deeper, purpose-driven unconscious beliefs. The religious person may say God is hearing a prayer and answering it. The scientist may say that imagery is changing the neurotransmitters, molecules, and cellular networks of the body. The mystic and the shaman may say that we're changing the energy surrounding the situation and that this allows change to take place. In spite of the variety of theoretical constructs about the mechanisms of the imagination, both how and whether it will work as we wish it to are part of the great mystery.
Secrets of Your Cells is the harvest of my lifelong journey to wed the worlds of science and spirit. Filled with personal stories, meditations, and practical exercises, it is both a guide and a playbook; an introduction to our microscopic selves and an invitation to embrace the cosmos.
UNLOCK THE SECRETS OF YOUR CELLS to know them as the perfect containers for the divine spark of life. Cells are more than nucleus and membrane; receptors and genetic codes; fluid, moist, flexing stringy fabric and tubes. Willing to dig deeper, you will find they hold important lessons about how to live a fuller, healthier life.
Open the door to cellular intelligence and ancient wisdom, the magic that dwells within you.
Secrets of Your Cells is both a playbook and a guide to the cellular universe. It will encourage you to engage with your cells in practical ways to invigorate your energy, your body and ignite your imagination. Fall in love and enjoy an intimate relationship with your cells. When we love ourselves from the cells on up, we can see how all of life is connected, the same, underneath our skin. And just maybe we'll learn to appreciate others even more.
AUDIO INTERVIEW WITH TAMI SIMON, SOUNDS TRUE
Part 1 –Your cells are listening Sounds True Publisher Tami Simon interviews Sondra
PART 2 – Your cells are listening and the Cellular Shaman
Contact Dr. Barrett for more information or to schedule a presentation.
---
---