ROMANCING YOUR CELLS 2.0
The Last Live Cell class
A Courtship
Get to Know your CELLF
Inside & Out
Where the science of our cells meets sacred practices, creativity
and sensory rituals for health and healing.
Discover the Healing Abilities you are born with
How your cells deal with

inflammation

How your cells and you communicate

How genes can change

What good vibes, your senses and music do for you and your cells.
One of the THEMES: Creating Sanctuary
Your learning will be enriched by complementing the knowledge with experiential and creative Expression. Vision boards, Collage, Smash books, Music and Movement – YOU choose what will guide you to embodying the cellular experiences. Perhaps called the Cell Censorium or Elementals.
ANATOMY OF A CELL: The Container, You as Sanctuary
Building the Cell, Architecture and Design
LAYERS OF OUR CELLS, a starting point – simple drawings
We are string instruments at the cellular level, inner or subcellular realm.
If you peeked under the "skin: of the cell you'd see a webbing, (a stretchy fabric) reaching all sides of the cell- in and out. This webbing vibrates.
From the discovery of our atoms from the stars forming molecules to create the sanctuary of our cells. From there we begin to explore the boundaries of our cell membranes and gain wisdom of what cells have to do to survive and what we can begin to do to thrive. We look at the layers of our cells to have an overview of our cellular map. We open to the vast wonders of inner space, you and the Youniverse including your sense of touch and invisible energy.
The vibratory senses – sound sight touch movement
From Stardust to Self
Anatomy of a cell, our many layers
Touch was probably the first cell sense
THE CELL SANCTUARY
The Cell membrane boundaries, innards the cytoskeleton, the spiraling DNA
How are you a Sanctuary?
I AM: Immune and Mystical (this will be 2 sessions)
Boundaries and Identity. Immune protection and detection. How our cells identify, define and defend themselves is fundamental to immune health. Every cell carries markings, like passwords of who they are and where they belong. As we explore the workings of our immune network, we look at the dangers and protectors of out of balance immune activity. An immune network collaborates with the brain, nervous system and the mind (the essence of PsychoNeuroImmunology – PNI, mindbody health). This will divided into 2 sessions with the science and sacred intertwined.
From the physical identity we move into the metaphysical SACRED I AM – your elemental, mystical identity. Identity, Claiming Your Sacred Nature
Boundaries and Protectors- physical and mental
Markers of identity: cell membrane, sound and scent, fingerprints
Language and basics of the Immune network: cells and molecules, PNI (psychoneuroimmunology)
The senses and immune conditioning
Immune out of balance: autoimmune, allergies and chronic inflammation
Keeping Immune powers in balance
Inflammation and lifestyle choices
Your mythic and sound self
Who are you – I AM THAT
I CHOOSE Good Vibrations
Here we discover the underlying foundation of our cells, the vibrating webbing or matrix, the cytoskeleton. The cytoskeleton connects everything within and outside of our cells. It is the place where sound and energy healing can take place. Some scientists say that the microtubules in the cytoskeleton are the seat of consciousness. So it follows that every cell has consciousness. We can tap into our cellular consciousness through imagination, sound and movement. The cytoskeleton also regulates gene expression. Knowing our cytoskeleton's activities, we know more about taking better care of ourselves. Here we explore more sound as healer.
Free download Secrets of Your Cells SOYC-chapter 4 Secrets of Your Cells
Communications and good vibrations, thoughts and feelings
Receivers and Responders: Cell Membrane Receptors and the Cytoskeleton (cell matrix)
We are string instruments – movement, music and mechanics – good vibrations
What moves you? What do you resonate with?
WALT WHITMAN ON THE POWER OF MUSIC
I AM Energy
How do our cells know how we are thinking and feeling? Still landing on the cell membrane we discover the receptive receptors of information. Information from our body and mind. Here we tune into the reciprocity of nature – us as part of nature. The breath of life supports our cells to produce molecular energy we need to survive. What strategies and practices support being energetically sustainable. In this module we learn how our cells transform food into molecular energy along with our synergistic connections with Nature, the breath-giving trees. Going beyond physical energy we explore the energy of qi and love. We also uncover how stress, real or imagined, uses up energy and how to lower stressful reactivity. Light, sight and breath.
The Mighty Mitochondria
Molecular and metaphysical energy, Qi and Love
Everything's connected – cells, self, Nature
Stress Relief, light, sight, breath
I LEARN and REMEMBER – our Senses and the brain, Neuroplasticity
Over the past few decades scientists have proven that the brain can change (neuroplasticity) and so can you. Making change is not easy yet simple sensory practices can help support creating new habits and behaviors.The gifts of your 5 physical senses both provides pleasure and offer proven ways to change behavior. The power of imagination and beliefs. Making a commitment to yourself becomes easier when you engage your senses as partners.
The Sensory Portal
Intention, imagination, using your senes to enhance goals and change
Brain and body – brain changes with new habits -neuroplasticity
Changing habits and new behaviors
I UNWIND Genes, Hidden Codes
Our genes and DNA offer a perspective into sacred symbols as well as the scientific icons of today. What protects the health of our genes and how can we take better care? In this module we also explore 2 major impacts on our genetic expression – cancer and epigenetics. We further look into sacred symbols in our biology to be able to use in creating rituals from the wisdom of biology. What needs unwinding?
Divine design, the mystic spiral
Cancer, a renegade cell, a problem with the genes
Damage and correction
Epigenetics – changing gene expression
The POWER of 3
I CREATE: Your Cellular Expressions and Divine Designs
Throughout this program we have explored our cells through the lens of science as well as our own intuition and creative expression. In this session you have the opportunity to share your creative expression of your cells, your self, you divine nature. Here is your opportunity to share your cell muse, ideal, etc.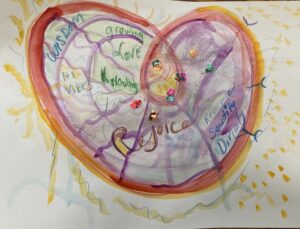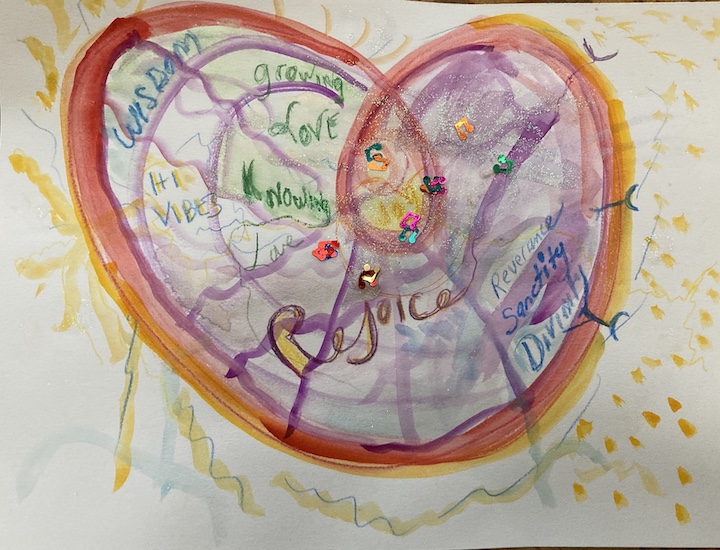 YOU CELL SELF. Creative expression of your ideal cell, cell muse, or cell wisdom – share, show and tell
WHO IS THIS FOR?
• Teachers – learn innovative ways to teach about health, cells, lifestyle and making biology real
• Psychotherapists and body workers– discover ways to provide clients with new body image, with love for their cells
• Health professionals – explore new ways to motivate and engage people to change habits
• Spiritual seekers – explore the surprising sacred teachings embedded within your cells
• People challenged by illnesses – learn healing strategies to improve your well-being
8 week Class started Wed. Oct 12
All sessions are recorded.
Looks like the best time will be 5pm PT.
I may stagger the times for the session
so that everyone can have a chance
to be here live
in this LAST LIVE CELL WISDOM PROGRAM.
The class is 90 minutes.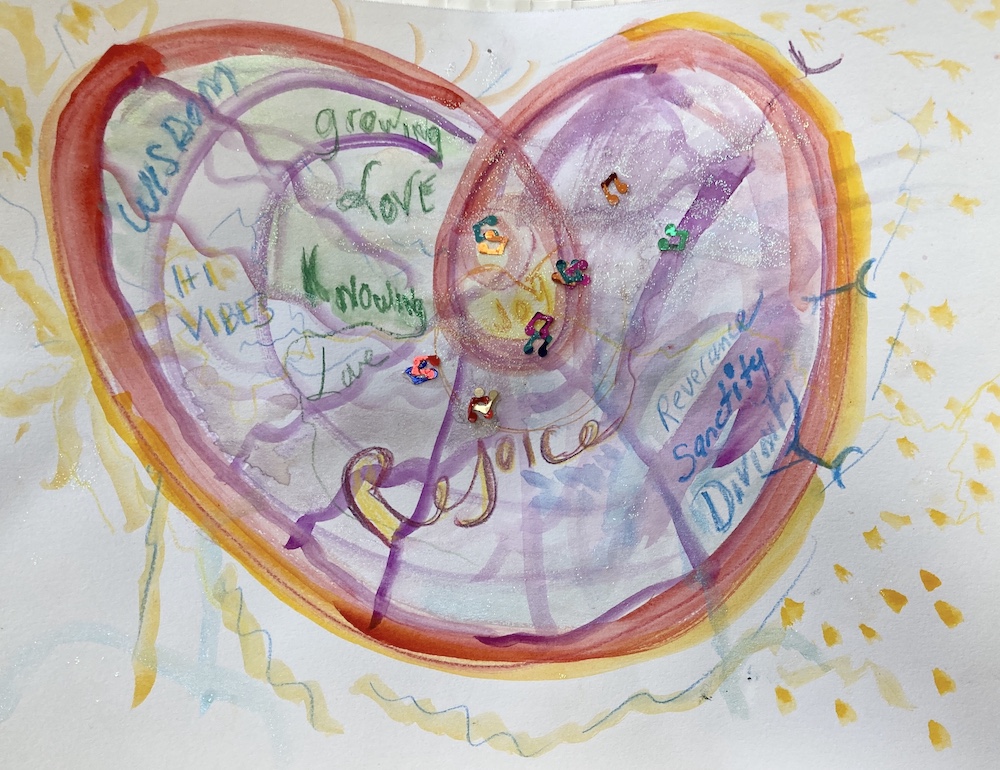 Live streamed and recorded so you don't have to miss a class if you can't make it in person.
Every class includes a visual presentation, experiential practices, a guided visualization, plus time to connect/ Q and A.
Here are a few Secrets of Your Cells

Come Meet Your Cell MuSE.
What's Your Muse showing you?
---
---