Under construction.
Most of what you will see here are photographs of the "stuff" of Life – molecules, wine, plants, etc, taken with a light microscope.
How Inner Space Photographs are taken
Sondra Barrett PhD, at the time, a medical research scientist at the University of California Medical School, photographed 12 mineral salts through an Olympus Interference Microscope using 35mm slide film. She had been using her microscope to develop diagnostic criteria of human leukemias. Taking a break from her lab one day she walked down to Golden Gate Park, went into the science museum and saw an art exhibit of chemicals of the brain taken with the same kind of microscope she used for her research. Her life changed forever from taking that break.
The Elemental Zodiac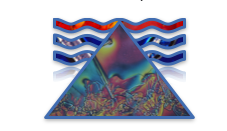 These mineral salts said to be associated with the 12 signs of the Zodiac revealed 4 primary shapes- rounded, square, hexagon and wavy. And these shapes aligned with the 4 elements – earth, air, fire, and water. The mineral salts are magnified 31x; the colors come from refraction of the white light of the microscope through 2 prisms on the microscope. Dr. Barrett says she is painting with light.
Wine Expressions
Dr. Barrett also has a vast collection of original wine portraits, which she will be offering for "adoption."
---
---