You are Invited!
I am really excited and a bit nervous to be offering this new blend of science and metaphysics. I've been working on this for years, one part for decades. In the past 3 years I've been testing the waters sharing the astrological elementals in classes and individual readings. A big leap for my scientist self.
As I get closer to my 80th birthday, it's now or never to stop hiding. Decades ago when some of this information percolated into my consciousness, I knew it was something I had to share. Yet I held the belief that if I shared this (my legacy), I would have no more purpose for my work, for life. My shaman said to me, if you don't share your legacy, you will not have done your work. So here I am bringing together the mystical and the mysterious inner worlds of cells, myth and molecules.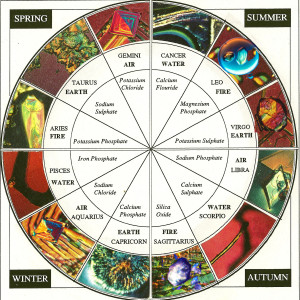 If I hadn't seen the benefit that this information and experience confers on people, I certainly would not be doing this. In making invisible molecules visible I am providing you with photographs and potent symbols of the 4 elements of the Zodiac. We also delve into the amazing sacred wisdom of our own biology, bringing together the blessings of our birth to enliven, engage, and enhance the elemental gifts we are born with.
From an elemental, symbolic and mythic perspective who are you? What challenges and gifts are reflected in your astroelemental signature or code? And what remedies will you discover that supports your growth in wisdom and heart?

More than ever we are being asked to trust the spiritual path. For me, the spiritual has become my most important portal for knowing, accepting, and loving who I am, to share in my integrity, honesty and joy. This Covid crisis brought with it so much fear, uncertainty, life choices not easily made and yet it also brings a time for fully showing up with heart and wisdom. Will you join me in this journey into you and life? Say YES to Y.E.S.
---
---