Since I photographed mineral salts associated with the Zodiac I have been intrigued by the beauty and wisdom our microscopic molecules are endowed with. I had called this the Elemental Zodiac but wondered if the Alchemical Zodiac would be more appropriate as I have been developing an Elemental Soul Wisdom deck and guidebook.
I am still working on the name.
The Elemental/Alchemical Deck has 36 cards, 3 families: Fundamental Zodiac (sun), Amplified or reflective Zodiac (moon), Alchemy (a blend of minerals such as air-fire, Libra-Aries)
Example of Taurus as the sign of the Zodiac.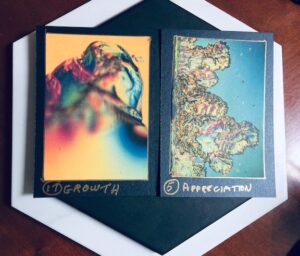 . and the 3 families or progression.
Information on Elemental Guidance Readings
Next program on learning more and how to create your elemental signature.