GEMINI, is an AIR SIGN and today June 3 we entered the new moon in Gemini.
This post will explore the air element, Gemini and the new moon since they each express/symbolize different qualities of cosmic energy.
Gemini is an air sign which means its about communication, being of two minds, and connecting with other people. During the time of Gemini (about May 21 to June 21) we may discover that we are changing our mind a lot. Trust your curiosity and your inner knowing to settle on what's now and next for you. A key phrase for Gemini – I think, I think so.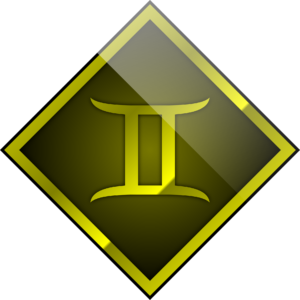 This glyph symbol for Gemini reflects its twin nature. Its zodiac symbol is represented by the twins Castor and Pollux. NASA named its two-person space capsule Project Gemini after the zodiac sign because the spacecraft could carry two astronauts.
The above photomicrograph of the Gemini mineral salt potassium chloride(KCl) perfectly expresses the so called duality nature of Gemini. When I photographed it decades ago I had no knowledge of astrology, so knew nothing about the twin nature of Gemini, I just was completing a project that friends begged me to do and capturing the beauty of the molecule.
The New Moon
The New moon is the dark of the moon, when the moon's face is not visible from the earth.
New moons mark a new beginning, time for reflection, meditation, and planning ahead. Symbolically and energetically, the new moon is a reflective inner time and a perfect time to start a new project that involves some sort of communication. This is especially good time to write, learn something new, communicate ideas and/or have a meaningful conversation
Here's my new moon in Aries post.
More on the AIR ELEMENT
Starting something new.
I have decided to offer a new program, It's Elemental, (more info posted shortly) to explore and learn about the 4 elements as it related to the gifts of our birthdays and overall temperaments. A live free Introduction will be delivered on June 18 6 pm PDT and if you are interested, please drop me an email sondra@sondrabarrett.com.