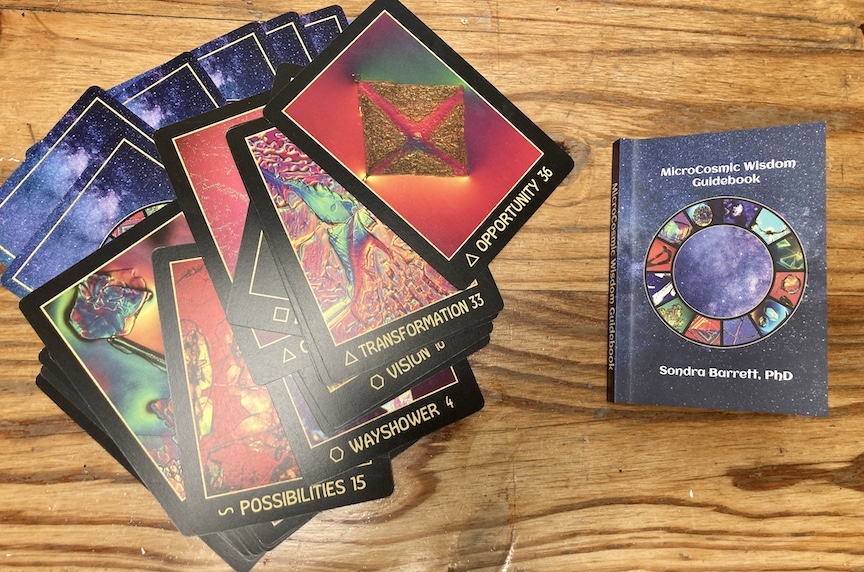 You're invited to explore MicroCosmic Wisdom, in the cards and inside you.
H

ave you ever wondered what the 4 elements of Air, Fire, Water, and Earth can teach you?
Come discover you and play with us in our Oracle Card Parties.
Come add to the wisdom of the MicroCosmos
With wisdom we create our life, our universe.
In this 4 session program, we will learn how to tap into OUR wisdom, our intuitive nature and the wisdom in the images. Plus we will play and learn together.
The program begins Sept. 7 at 11 am PDT. Limited to 12 people.
There are 2 different options for registration. EARLY BIRD SPECIALS until Sept. 1.
OR
All sessions will be recorded if you can't make it in person.
Once upon a time – I never intended or even thought of creating an oracle deck from the photographs I took through the microscope. These photographs, that are the foundation of the MicroCosmic Wisdom cards, are of mineral salts of the Zodiac. And though I did the photography 40 years ago, I rarely talked about them or my discovery of the elemental patterns held in these molecules. About 10 years ago I began using the images to understand elemental astrology and human relationships. A portal opened up to me about the magic wisdom of the 4 elements, as touchstones into human nature, a person's cosmic code of their moment of birth. It revealed something that an ordinary birth chart fails to do. Ultimately, it took me into our intimate connection with Nature. Lots of gratitude for all of this and many stories to tell yet for the sake of this new program,I want to focus on you and the cards.
The cards became my doorways into spiritual transformation, my I AM. And as people are beginning to use these cards, I realize that the cards are more than I ever imagined.
This 4 week program is an invitation for self-discovery and an initiation into the YOU that may be hiding or still unknown. You will make your own discoveries of your soul code and deeper inner knowing. We will cover basic terms in astrology – what is a rising sign, the zodiac and then into the fundamentals of the 4 elements, getting your birth chart and learning to use your elemental magic. Also how to gain wisdom with these MicroCosmic Wisdom oracle cards with a weekly oracle card party as part of the class.
Module 1. From Outer Space to Inner Space
We know more about the stars than we know about ourselves. This first module takes us from the beauty of outer space obtained by the Webb telescope to the surprising discovery from inner space through the microscope, that molecules carry wisdom and even personally useful cosmic wisdom for each of us. The story of this exploration has us look at confronting doubt, uncertainty and fear and going ahead anyway. Is it possible that molecules carry messages beyond their chemistry? Honoring our decks and the 3 families: Fundamental and Expansive Zodiac, Alchemy. What's your question today and which card gives you an answer?
In the ancient Aramaic, the creation story did not start with "In the beginning."
It started "With Wisdom, God created the heavens and the earth."
Wisdom is the fundamental building block of the Universe.
Module 2. Who are you? Tuning in
From the molecules we look at their place in the Zodiac and astrology. A very basic overview of astrology will help you make this information applicable to you. Birth charts, signs and the 4 elements. The MicroCosmic Wisdom deck and guidebook – symbols and ways to play. A card a day. What are those blank cards for? Blank cards and being your creative self. Today's card party will look at your sun sign cards and what they tell you about you.
Module 3. The 4 Elements
What are the qualities and symbols of the 4 elements of Air, Water, Earth and Fire in terms of Nature and human nature? Putting into practice the powers of the elements. The 4 Elements and the cards. Embracing elemental energies accessed in the MicroCosmic Wisdom guidebook. Today's card party will focus on activating our elemental nature.
Module 4 The Elemental You and Your Astro Trio.
The MicroCosmic Wisdom Cards, going deeper. Spreads and your favorite cards. How to ask questions of the oracle. Sharing your MicroCosmic AstroTrio – what does it say to you?
This program will be limited to 12 people
---
---